When one of the largest malls in the world ran into trouble during an expansion, its team called in Keith Mittl. The $100-million project had come to a halt after developers became concerned about inconsistencies in their sewer plans, and they couldn't move forward until they were confident of the system's layout. Keith arrived, camera and equipment on hand, and he quickly identified major errors in the existing blueprints. The variations were so significant that many doubted his report, but Keith stood by his work. Upon further inspection, the mall's developers confirmed that the sewer layout was indeed different than the available plans. Keith—and his MyTana equipment—were spot on.
With 20 years of experience in the industry, Keith is regularly called in to clear pipes or consult for municipalities and big commercial jobs. For the last 15 he has worked with Ultimate Drain Services, Inc., a Twin Cities-based company known for its skilled drain cleaning and exceptional customer service among both residential and commercial clients. As the business's lead drain tech, he's an integral part of the four-man team. He specializes in jetting and televising and has such a strong reputation that cities often refer him to one another to check the work of other pros.
Like many in the industry, Keith has strong opinions about his equipment and tools, and he uses MyTana jetters, cables and blades on a daily basis. He's so loyal, in fact, that when he was assigned equipment from a different provider at a previous job, he took matters into his own hands: "The company wanted me to use their brand, but it was junk. I reached out to MyTana and bought my own blades."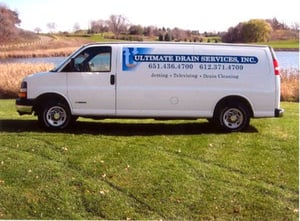 But MyTana cameras are his real favorite. "I've seen a few others, but I don't like the way they work," he explains. Just as importantly, "If I have any questions, the MyTana staff bends over backwards to make sure I'm happy. The customer service is great, and really fast." And he appreciates that there's no funny business. "They make their own cable, and they take ownership of their products. They have no problem sending a replacement, and I never worry that they're trying to scam me."
MyTana equipment has served Keith well on a wide range of projects, whether it's assisting management companies or locating a $10,000 bracelet that was flushed down the toilet. "There're always surprises. I've pulled cue balls out, and I once found a golf ball blocking a pipe after two other companies failed to find the problem. No idea how that got there, other than someone throwing it down the roof vent." And then there are the animals: "I've seen raccoons, rats, snakes, all kinds of things. When you see those two little eyes staring back..."
He loves his work, and being part of the Ultimate Drain team. While major commercial projects make up the bulk of his job, it's the unexpected bumps and clogs that keep things exciting. And his customers are lucky to have him: "You do this long enough, you get pretty good at locating, scoping, seeing what's wrong, and figuring out what the conditions are."
Check out the sewer inspection systems that Mittl and thousands of other drain professionals rely on today!