"MyTana equipment is factory-direct and American made": We write it on our catalogs, our website, our marketing. And while "Made in America" is an afterthought for many operations, at MyTana we're proud that our story parallels that of so many American success stories—full of hard work, innovation and a dash of luck.
It was downright lucky, for example, that in the 1930s Sol Gottstein lived down the street from Samuel O. Blanc, the inventor of the first electric drain cleaning machine and founder of Roto-Rooter. Though Sol and his brother ran a Des Moines grocery store, they worked closely with Mr. Blanc on the development of his early machines. The Gottsteins helped weld prototypes of the equipment in their garage, and Sol and his brother soon became involved in training some of the nation's earliest Roto-Rooter operators. Inspired by their neighbor's success, the brothers moved to Minnesota to open twin Roto-Rooter franchises in Minneapolis and St. Paul.
But Sol had bigger ambitions. Rather than purchase parts from Roto-Rooter, he wanted to make better, stronger cable himself—and save some money in the process. With the help of collaborators Jerry Isaacson and John Sentman, Sol soon found himself in the cable business, competing with Roto-Rooter for cable sales to other operations. In 1957 he began selling machines as well. In creating this new business, Sol was inspired by the beloved cartoon hero, Mighty Mouse. Perhaps imagining his customers announcing, "Here I come to save the day!", Sol turned Mighty into "My-T," and the rest "came to him in a dream." And so MyTana was born.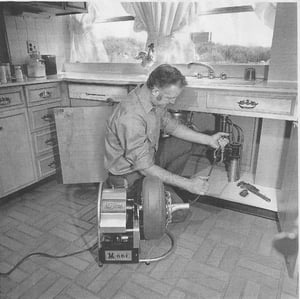 For 15 years Sol operated his Roto-Rooter franchise side by side with MyTana Manufacturing Company, Inc. In 1972, he sold the Roto-Rooter business to his nephew, and MyTana has been an equipment manufacturing company ever since. Since its founding, MyTana has sought out and developed the best technologies and advancements for its products, including the introduction of upright style cable machines, jetters, and ongoing advances in inspection camera technology to this day.
Sol stepped down from leadership in 1992 and passed away a few years later. But his commitment to superior products and to customer service remains the cornerstone of MyTana and provides the foundation for all future growth. We still sell factory direct to the end user to ensure reasonable prices and complete accountability. John Sentman's family line has continued at MyTana through son-in-law, Michael Och, grandson Mike Och, Jr., and two great-grandsons. Along with GM Brent Hill and others, they continue to play a leading role in product development and manufacturing operations. And while today we have business partners around the world, our St. Paul, MN shop is where we manufacture, sell and repair all of our MyTana equipment.
To learn more about MyTana products, industry news, and company updates, subscribe to our email newsletter: