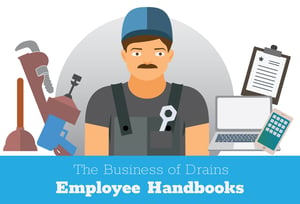 Growing your plumbing business presents many challenges, but building a reliable, trustworthy and dedicated team is usually one of the biggest. Employees must be willing to do everything it takes to do the job, while still staying safe and protecting themselves and your company. For your budding plumbing or drain cleaning company to succeed, you need to have straightforward expectations in place for your employees. They should know what you require from them and what they can expect from you.
A well-written and comprehensive employee handbook is usually a great place to start, although it's often overlooked by small and mid-sized businesses.
Why Plumbers and Drain Cleaning Companies Need an Employee Handbook
Employees and employers rely on an employee handbook to outline the everyday responsibilities of their jobs, how to deal with unique circumstances, and how to avoid safety violations and legal problems. Plumbers are often called to different locations, where they act as representatives of their company. To present a positive image of the company to the public, all plumbers should follow the same policies and procedures.
Your company's policies, values, mission statement and goals should be at the center of your employee handbook, so all staff can familiarize themselves with them. An employee handbook creates a standard of behavior for all employees, whether codes of conduct for attendance or specific safety regulations. Plumbing and drain cleaning are physical jobs that utilize numerous tools of the trade, and your employee handbook should reflect the specific safety standards for this work. Mishandling equipment can result in injury or property damage, while an organized employee handbook for plumbers to refer to while on the job can easily help avoid that risk.
Elements of an Employee Handbook
So what should you include in your handbook? It should include all policies that you expect your employees to abide by. That includes company standards, and those required by federal, state and local regulation. Generally speaking, most handbooks will contain the following sections:
Company Introduction

Legal Statements

Equal Opportunity Employer Disclaimer

Confidentiality Waiver

Family Medical Leave Policies

Workers' Compensation Policies

Anti-Discrimination and Sexual Harassment Policies

Employee Conduct

Holidays and Leave Policies

Compensation

Employee Benefits

Disciplinary Policies

Confirmation and Acknowledgement
The organization of a handbook is just as important as its contents. If there are different policies for different kinds of equipment, group them together and clearly label them. Be sure to include a table of contents to make it easier to find information quickly.
Using Your Employee Handbook
A handbook is extremely useful during the onboarding process for new employees. It ensures that the new hire knows the ins and outs of your organization, from when they're paid to policies for handling company property. If a new hire has trouble remembering something from orientation or just wants to double-check, a handbook to reference can prevent injury, damage and litigation. While handbooks may be particularly helpful for employees that are new to your company, even experienced plumbers can run into situations they're unsure about. When it comes to safety and following policies and procedures, everyone should be on the same page, literally!
Make Your Handbook Required Reading
An employee handbook is only useful if it's been read, so it's important to set aside some time for workers to review it completely. All staff should sign an acknowledgment that they've read the handbook and understand it. Including this in the onboarding process can quickly get new plumbers and drain cleaners working while ensuring that they understand company expectations. It should be understood that the agreement is not a binding contract and not a guarantee of employment, it is simply an acknowledgment that the employees understand what is expected of them and prevents them from claiming ignorance if those policies are violated in the future.

Encourage employees to ask questions about the handbook and company policies. Policies that aren't understood won't be used. Employers and managers should have a thorough understanding of rules and regulations and be able to answer any questions.
Need help getting started? Use MyTana's Employee Handbook Template to help guide you through the process of creating your own employee handbook. In this template you'll find sample copy that you can make your own and instructional text to help you understand what you should include in each section, all packaged and organized in an employee handbook format. Download it for FREE today: