Plumbers and drain cleaners are no strangers to corrosion. In fact, they deal with corrosion and its effects on household and commercial plumbing day-in and day-out. Corrosion is one of the most costly sources of infrastructure and equipment damage in the world. In 2007, the Federal Highway Administration reported to Congress that corrosion cost the United States $442 billion annually. For the average homeowner though, corrosion is rarely the biggest maintenance concern, but it can make a big impact on the safety and livability of a house and its plumbing. As plumbers it is our responsibility to decipher the type of corrosion our clients are dealing with and help them combat any issues that it can cause before it becomes a visible problem.
Most people are familiar with rust, the oxidation of iron and its alloys. But iron oxide is not the only form of corrosion the average homeowner has to contend with. Corrosion can be broken into eight different categories, some of which are more common in residential plumbing than others. In this blog, we'll cover the three most common types affecting residential customers.
Uniform Attack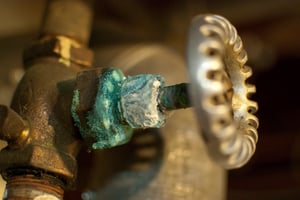 Uniform attack corrosion is, by far, the most common type found by plumbers and drain cleaners. Luckily, it is also the easiest to prevent or limit. Uniform attack is a chemical or electrochemical reaction that proceeds uniformly over a large area. Basically, when gutters begin to rust or corrugated steel patio roofs develop a hole, you're seeing a uniform attack. Oxygen is reacting with the metal to wear it away.
This type of corrosion is predictable, so repairing and preventing it is simple. PVC or other plastic lines are growing in popularity for residential use because of their corrosion-resistant nature. While re-piping a house runs from $4,000 to $10,000 for the average two-bathroom house, losing water through leaks and repairing water damage can cost significantly more over time.
Galvanic Corrosion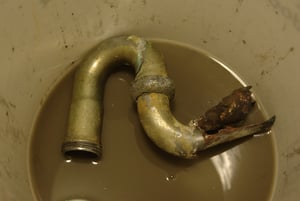 Galvanic corrosion occurs when two different types of metals are in contact. One metal eats away at the other, pulling material from it. This means the stronger metal is often unaffected, but the weaker metal gets weaker rapidly. One famous example of this corrosion is the 1984 renovation of the Statue of Liberty. Over time, contact between her copper skin and internal wrought iron supports wore the internal structure away. The National Park Service spent two years replacing the rusted iron with stainless steel, among other maintenance work.
Within homes and commercial properties, this occurs most often when a section of old metal pipe has been replaced with new metal pipe. If old brass or copper lines are replaced with galvanized steel, the steel can begin to degrade rapidly. Even trace amounts of copper can corrode galvanized steel in very little time. For plumbers replacing lines, understanding galvanic corrosion and which metal combinations it effects can eliminate that risk.
Pitting
Pitting is one of the most problematic types of corrosion. It is an extremely localized attack resulting in small holes in the metal. They vary in size, but most pits are small, around pinhead size. Pits can be difficult to detect not only because of their size but also because the surface of the metal is often covered in other corroded material. Pits can cause serious damage to a pipeline without significant loss of mass, so failures often occur suddenly. Pitting is also more complicated to prevent; however, proper selection of material with relation to the service environment makes it possible.
Though these are not the only types of corrosion, they are the ones most prominent when it comes to residential and commercial properties, and the ones plumbers and drain cleaners see the most. As with many types of household damage, the best way to fix it is to avoid it. Be smart about the materials you use when repairing pipes, inspect carefully and be proactive!
Stay up to date with all things plumbing and drain cleaning with our newsletter, filled with industry news, informative posts and product updates.
Spigot with patina courtesy of Mary Schmitt via Flickr (CC BY-SA 2.0)
P-trap courtesy of Patrick Finnegan via Flickr (CC BY 2.0)