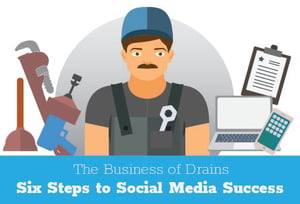 Check out an updated social media guide here.
If a homeowner's drain was clogged in 1998, she'd open the phonebook and choose a plumber based on a friend's recommendation or a print ad in the yellow pages. Today, life isn't so simple. That same homeowner logs onto Facebook to ask for referrals, clicking through as many websites and profiles as it takes to find the provider that best meets her needs. If you want her business, you need to meet her where she is—online, on social media.
Step 1: Know your audience
Social media should be about the customer's wants and needs, not your own. Knowing who you want to communicate with should guide how, when and where you engage with them. Spend a little time thinking about your ideal customer. Are you working for individuals or business clients? Where do they live and work? How old are they? What financial resources do they have? It may seem obvious, but asking these questions can help you choose a platform, create posts, and fine-tune your message.
Step 2: Pick the right platform
Different social media platforms are intended for different purposes. While most sites can share different kinds of content, they each have a different personality and user base. For a small business, keep in mind that
Twitter's 280-character limit is ideal for companies that want to share quick tips and ideas on a regular basis.
LinkedIn is a great tool for people who enjoy networking and have a lot of business customers who turn to them for advice and recommendations. Users are also wealthier and much more likely to hold college degrees.
Facebook allows for more varied content and closer community-building. It's also the best place to reach older users, like Baby Boomers.
YouTube can't be beat for sharing how-to videos.
Before you create an account on every social media site available, decide where you'll get the most bang for your buck, and master it.
Step 3: Share relevant, quality content
Give your followers a reason to stay connected to you by sharing a variety of quality content. Studies have shown that people pay more attention to posts with images or video, so incorporate visuals into your posts. As a rule of thumb, quality posts either educate, engage or promote.
Educate
Educational content gives your followers valuable information and establishes you as an expert in your industry. What kinds of questions do your customers ask? How-to videos, blogs or lists of tips are good ways to approach industry-related topics.
Promote
Share current deals, announce contests, publish pictures of your work or equipment, and post customer testimonies. Always include a call-to-action—a link to your website, an invitation to a special offer, or any other way to get customers to interact with you.
Engage
Posts should also entertain your followers and show your business's personality. If you want to be known as a no-nonsense type of company, you might include fun facts or motivational quotes. If you want to emphasize that you are a family business, share personal successes, spread holiday greetings or mention names of your team members.
Step 4: Post regularly
Companies spend millions of dollars a year tracking when and how often they should post on social media platforms. As a small or mid-sized business, however, your most important takeaways are consistency and quality. Sharing one interesting post is better than sharing three mediocre ones, and reliably posting every other week is preferable to blitzing your followers with 10 posts in one week, then going silent for the next four. Take an honest look at what works for you, make a plan and stick with it.
Step 5: Be smart about paid advertising
Although posting on social media sites is free, each site has options for paid ads and boosted posts. So why should you pay when you can post as much as you want at no cost?
Paid advertising reaches your audience more effectively than typical posts do because platforms allow you to strategically target specific types of people, including those who are not current followers. For example, you may choose to display ads based on users' location and interests. Sites also allow you to measure how effective your paid posts are by showing how often people see and click on them. If you discover something isn't working, you can tweak future posts to be more effective. Social media ads are often inexpensive to buy and create, so don't be afraid to give them a try. A quick search will direct you to easy, more in-depth suggestions for building out your social media ads. (Try out this one from Hootsuite.)
Step 6: Be social
Above all, the key to success at social media is being social. Share and like posts by other users, and create content that will help start a conversation with your customers. Follow online messages and answer questions for someone in a plumbing bind. Join groups online and join in on the conversation; soon enough someone will need your services and reach out for a paid gig.
This social mindset will help you get the most out of your social media accounts, whether you use Twitter or Facebook, share holiday photos or demo videos, use traditional posts or invest heavily in paid advertising. A smart company that carefully maintains its profile can improve relationships with current customers, forge connections with new ones and raise the bottom line.
This is the first of a two-part series that helps plumbers and drain cleaners use social media and the internet for their marketing needs. In our next post we will discuss how to leverage review sites such as Angie's List, Yelp, Nextdoor and Google Local to manage your online reputation, reach more people and learn what your customers are saying about you.
The Drain Business is a series of articles written to help plumbing and drain contractors build and grow their business. For more resources like this, subscribe to MyTana's newsletter, where we'll keep you up-to-date and informed.