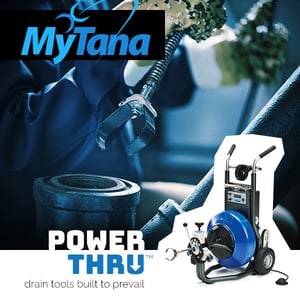 From sink to sewer lateral, it's your job to identify issues, clear obstructions and repair defects in all the interconnected piping that feeds into municipal sewers. That's a lot of pipes of different sizes to service and, as a plumbing or drain cleaning professional, you've probably encountered everything you can imagine–from the usual suspects like grease and hair to the more obscure like toys or utensils.
The tool you need to clear roots from a sewer lateral is not the same tool you need to power through hair and soap scum from a tub drain. It's time consuming and labor intensive to have to switch between different machines to address lines of different sizes and obstructions of different materials. MyTana's new M745 Workhorse with SmartDrive™ gives you the versatility you need.
The multipurpose M745 comes fully-equipped with 100' of 9/16" cable to work in 3"-4" lines and includes slip-joint fittings, autofeed, blades and accessories. Or easily swap in an optional sinkline reel with 80' of 3/8" cable to work on 1½"-2" lines. And thanks to a tool-free quick-release design, swapping reels is easier than ever: there are no belts, springs or bolts on the drive system, and the autofeed-retriever mounts on a secure slide-lock bracket.
The SmartDrive™ technology is the first of its kind with adjustable electronic motor controls that allow you to adjust speeds from 100-300 rpm while you work. For safety and to maximize cable life, it also gives you the choice of two torque settings equipped with an alarm to notify you when cable torque becomes dangerous.
The M745 is designed with an inner drum to prevent cable flipping, has built-in stair-rollers for enhanced mobility, and a retractable loading wheel that swivels out of the way during operation. It is compact to fit in tight spaces, and offers a telescoping handle that adjusts to your height and can easily be stowed for storage. It also has non-skid feet and balanced weight for stabilization during use and transportation.
When you own a small business, getting the biggest bang for your buck is a necessity. The more services you offer, combined with efficiency to quickly move on to the next job, saves time and increases revenue. A versatile, single system like the M745
Saves space in your truck
Reduces the amount of equipment you have to lug on a job site
Means everyone on your team can be equipped to handle a wide array of challenges
Saves you money over buying multiple machines for different applications
Streamlines training so your crew only has to learn how to operate one cable machine; newer operators can learn on slower speeds; and seasoned operators can run it as fast as you want
Having single-purpose tools is an outdated approach–learn about the revolutionary, new multi-tasking M745 Workhorse with SmartDrive™: