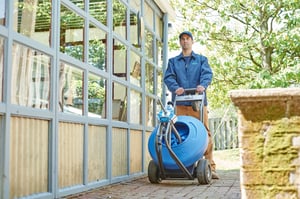 Being a plumber or drain cleaner means being mobile. From switching between cleaning, jetting or inspecting tasks to traveling from job site to job site, this profession depends on your mobility, so your equipment should support being on the go. You can't do your job without your equipment, and you can't use your equipment if you can't get it out of your truck. Staying injury free also plays a large role in keeping you going, so portability considerations help you make obstacles easier on yourself and on your equipment.
Most people think of on-the-job injuries as big events: a slip, a fall or an electrocution. But many injuries are sustained over time. Repetitive motions, lifting and climbing stairs with equipment can result in a variety of bodily strains, pulled muscles, weakness and loss of mobility. All are common and can prohibit drain cleaners and plumbers from doing their job in the long term. Aside from the burden of physical pain, income lost due to injury can also cause financial problems making it even harder to recover. Staying injury-free takes some preventative measures, like getting equipment that's easy to maneuver.
While many older models of cable machines and jetters are functional and reliable pieces of equipment, they often lack ergonomic features that make them easy to move and to work with. And why does ergonomic equipment matter? Portability and safety. Plumbers and drain cleaners know you can't always avoid curbs and stairs when going from site to site, so anything that makes hauling equipment easier on the body is welcome. Thankfully, many companies are now producing machines that are both durable and convenient.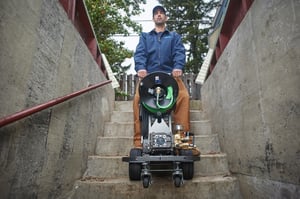 Machines should be built tough, compact enough to navigate tight spaces, and have three contact points with the ground to ensure stability. Like a tricycle that stands on its own, instead of an unsteady bicycle, you want equipment that can evenly distribute its own weight and bulk. You shouldn't have to use excessive force or compromise your safety to move your equipment. From a physics standpoint, a balance point that's over the rear axle will make sure that it stays stable. It will also prevent tipping and help shift the weight when you are hauling equipment to and from your vehicle and the work destination.
Other positive characteristics of mobile equipment to look for include loading wheels and stair climbers. Loading wheels make it less likely you will get injured lugging equipment in and out of your vehicle. The wheels can be removable or permanent fixtures attached to the frame and both options offer benefits to operators. Treadless pneumatic tires are preferred for their cleanliness on the job because they don't track in dirt. They are also cushioned, easing strain on your wrists and forearms during transportation. Lightweight stair climbers also make moving equipment up flights of stairs less challenging and prevent damage to stairs.
MyTana equipment helps you work efficiently and stay injury free. What's important to our customers is important to us. Our equipment is durable and tough to withstand brutal drain cleaning and plumbing applications. Plus, with evenly distributed weight, our machines are designed with mobility, stability and safety in mind. Whether you're looking for a jetter, cable machine or inspection camera, trust MyTana to provide the equipment you're looking for.