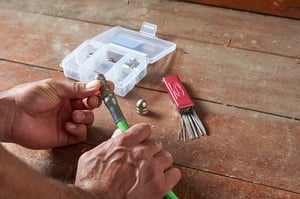 Check out our newer Jetter 101 blogs on maintenance and nozzles.
Jetters are an essential sewer and drain cleaning tool built to blast through soft obstructions like grease and sludge or melt through frozen lines. Each jetter consists of a motor, hose, pump and nozzle; and each attribute must be considered when purchasing a jetter. But none is more customizable than the jetter nozzle. Jetter nozzles are specialized to perform debris breaking and line clearing, and different designs all have individual advantages that impact price and use.
Why is there such a range in jetter nozzle prices?
Nozzles can come with a range of specifications like national pipe thread (NPT), gallons per minute (GPM) and pounds per square inch (PSI). These three characteristics influence how a nozzle is built, which directly influences how it will function and, ultimately, how much it will cost. Material type impacts price, as does size. Additionally, some nozzles can do more than normal jetting capabilities, like rotate within the pipeline to give a deeper and more full-coverage clean. If you value efficiency, investing in your tools will prove to be a good return on investment.
How do jetters accomplish drain cleaning tasks?
Jetter nozzles are designed to do various drain cleaning operations: rinse, blast, flush, degrease and de-ice, and maneuver through elbows and tees. Hole positioning and size is essential to nozzle function: Manipulate the water flow and you change how it will work. When holes are too big, pressure goes down. Aligning the nozzle and hose is also critical to jetter function. Hose diameter will determine what PSI is appropriate to use, and small hoses should never be over pressurized.
What types of work can jetters accomplish?
At certain angles, water streams give the jetter more propulsion, shooting the nozzle and hose down a pipeline to bore through obstructions. Other angles allow for better flushing and rinsing action. Still others are specially designed to go farther with maximum pulling power, so you can clean greater lengths of pipeline without having to re-deploy your jetter. While many plumbers and drain cleaners are tempted to rely on only a few nozzles to do their work, choosing the right tool for the job helps you maintain your equipment and work more efficiently.
Utilizing the wrong equipment for a task can have severe consequences. We regularly hear about people who have hacked together their own jetters with hoses or pressure washers, and the outcomes are disastrous. Desperate drain cleaners make an urgent call to MyTana or, worse, take a trip to the emergency room after do-it-yourself equipment has caused bodily injury to the operator. Save yourself from both outcomes and get MyTana's high-quality jetter equipment including jetters, hoses and nozzles: