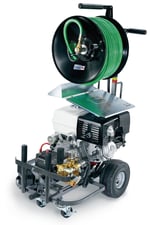 Water jetting, sewer jetting, hydro-jetting and jetting—they all describe a process of washing out clogs, removing potential blockages or generally cleaning drains and sewer pipelines using a high-pressure spray of water. Many plumbers, drain cleaners and sewer cleaners use jetters because they are powerful and fast cleaning, thanks to a unique combination of water pressure and water flow. In many instances jetters are able to address plumbing challenges better than other pipe clearing products.
Use
Unlike pressure washing and snaking, jetting moves water through a hose and out a nozzle that sprays, in part, backwards at a 20 to 45-degree angle. This directionality cleans the walls of the pipe and sends debris back towards the operator while propelling the nozzle forward. The propulsion allows the hose to move easily through pipes and bends. Nozzles come in a variety of shapes and sizes with unique water jet patterns that accomplish different tasks. For example, while some have patterns that are better equipped for flushing, others specifically target degreasing and de-icing.
Jetting is best done from the downstream end of a clogged drain or sewer because it takes advantage of the gravitational pull and downward flow to remove debris. When working from the upstream end, the operator will need to shut off the flow of the jetter temporarily so that debris can get ahead of the nozzle and flush out properly. Both methods allow operators to move debris back down the pipe to visually confirm that blockage removal and understand the nature of the blockage.
Maintenance and care
Water jetters and their components are made to withstand harsh environments, but to ensure their high performance and longevity, regular upkeep should be maintained:
Wipe off hose and clean out nozzle tips after each use.
Keep machine and components dry and clean when not in use.
Routinely change the oil, check for hose damage and replace nozzles when worn.
Keep antifreeze in hose and pump in subzero temperatures.
MyTana's Jetter Selection
MyTana offers a line of electric and gas jetters that clean lines between 1.5"-10". All units are built with frames that withstand rugged use, keeping functionality, portability and maneuverability in mind. Notable attributes on MyTana jetters include:
Pulse-abler Power.

Pulsing water creates a wiggling motion that reduces friction so the hose can make its way through tight pipe bends.

Thermal Relief Valve.

To protect pump seals, an automatic thermal relief valve kicks in if water temperature exceeds 145

° or when the pump goes into "bypass mode," meaning the pump is running but no water is being pushed through the hose.

Motor. Gas-powered jetters include Honda motors with electric start.
Automatic Choke and Throttle Down. The M30 features an auto choke and throttle down to save gas and limit wear and tear on the pump.
Jetters allow you to tackle a wide range of projects, from general drain flushing to clearing soft obstructions like grease, sludge and mud. MyTana machines make it easy to get your jetter where it needs to go and clear lines efficiently. Additionally, MyTana carries a full line of replacement hoses, nozzles and accessories. View MyTana's selection of jetters: