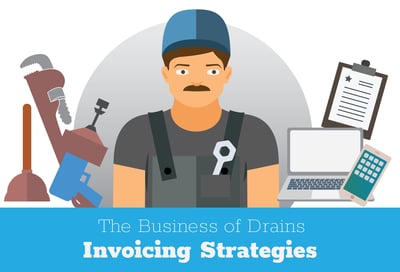 Did you know the average small business waits 21 days to get paid? Or that the average small business has only 27 days worth of cash reserves on hand? These stats are jarring because cash flow problems can have major ramifications for your plumbing and drain cleaning business. Healthy cash flow is important to survival, and it requires more than the right amounts of money coming in and out; you have to take timing into account, too. Getting paid on time and in full is key to the success of your business.
Whether you're using handwritten invoices or electronic ones, there are a few tricks to getting paid faster. Keep these in mind when writing and executing your billing:
1. Include the Basics
Every invoice should have some key information. Keep things concise, well organized and in a consistent format.
Business name

Address

Phone number

Payment terms and options

Client's contact information

Brief sentence describing the work completed. Include information on cost of parts, hours worked, hourly rates, taxes, dates/times completed and any other relevant details.

Date work was performed

Date payment is due

Name of technician

A kind greeting — Thank you! It was a pleasure working with you.
2. Electronic Versus Handwritten Invoices
Choosing whether to go electronic or handwritten can be a tough decision for small businesses. Which invoicing method is the right option for you?
Handwritten Invoicing:
To many, handwritten invoicing seems a little easier—there's no device or electronics involved. No matter where you are and what you're doing, you can quickly complete that invoice, customized to your needs. Handwritten invoices are especially useful for smaller operations or emergency jobs, because you can hand customers a bill at the end of a job and expect them to pay then and there. No matter what your situation, with handwritten invoices you're not stuck within the confines of what software can and cannot do.
If you choose to go the handwritten invoice route, be sure to always create a carbon copy. Having a copy of your billing helps you keep track of unpaid invoices, and records may be required when tax season rolls around.
Whether you buy a blank invoice book online or order a custom one from an online printer, you can make handwritten invoices look more professional by including your logo and other business information.
Electronic Invoicing:
Sending invoices electronically can make it easier to store, track and distribute them—and it also makes your business communications look more professional.
Many online apps make free or low-cost cloud-based invoicing available to small businesses. Apps such as PayPal and QuickBooks offer great options: PayPal makes it easy for customers to send in their payment, while QuickBooks automatically tracks mileage and expenses and is available on your phone for quick building.
Some plumbers prefer generating invoices from their computers using word processing software and sending them off to their clients. It allows them to use their computers to store and track billing information. With an invoice template you just input numbers, and the computer will do the math for you. Need an invoice template? Check this one out.
3. Stay Organized
Start each invoice with the first conversation about a job. Keep updating it as you progress with the work. This helps cut downtime required to send the invoice out after the job is completed. It will also help you update customer expectations, provide an estimate and deliver partial invoices if necessary.
4. Use Specific Timing
Many small businesses use 30 days as a typical payment period. Plumber Magazine recommends making the payment period a more specific, unique number. If you have clients that are sluggish in paying, try limiting it to 15 days or 21 days. This ups the chances you'll get paid promptly, and a memorable number helps motivate clients to pay on delivery.
Another option is to offer discounts for early payment. Raise prices enough to accommodate for those discounts, so you aren't giving away your labor—if cleaning a pipe normally would cost a client $200, charge $220, and offer a 10% discount for same-day payment. The client will think they're getting a deal when really, you're getting paid what you should, when you should.
Alternately, you can create terms of payment that subject late payments to interest, or levy a late fee. No one likes to pay interest or late fees!
5. Deliver Invoices Promptly
Deliver your invoices the moment you complete the job! Delivering your invoices immediately means that your client can pay you sooner.
Be clear about your payment options (cash, check, card), and payment due dates (including discounts for early payments and/or late fees). A verbal reminder or email as you hand that invoice over encourages clients to pay sooner.
6. Reminding Clients to Pay
Reminding clients to pay doesn't need to be awkward. A generic email response or scripted talking points for phone calls can make the job easier for you. If you're a handwritten invoicing pro, keep a list of talking points at the bottom of your clipboard. Store a saved draft in your reminder email to send out to clients. Folks sometimes just need a gentle nudge to pay, so stay firm about your payment due date, and add in a nice thank you!
These invoicing tricks of the trade can help you continue to generate steady cash flow for your business. Invoicing practices that are organized, efficient and effective help you get paid on time and support the success of your plumbing and drain cleaning business.
Ready to get started? Download MyTana's Invoice Template: