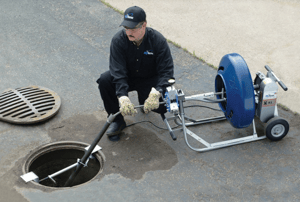 Freddy's Ready rooter and sewer services opened its doors in 1948. Many things have changed since the company first went into business, but owner Reggie Crawford knows that unlike the pipes he works in and around, it only gets better with time. Headquartered in Minnesota, the Freddy's Ready team has gained years of insight into the plumbing and drain cleaning needs of the region. While the company specializes in rooting, drain clearing and cross bore inspection services, Freddy's Ready stands out in the industry by adding consulting services. Leveraging almost a lifetime of knowledge, Reggie's team has found the offering unexpectedly rewarding.
Freddy's Ready isn't afraid to go the extra mile to serve its customers. With Midwest property management companies and realtors as key clients, Freddy's Ready often inspects and consults in other states. including Wisconsin and Iowa, and at locations as far as 200 miles from its home base. Reggie emphasizes that knowing the region and having local ties makes all the difference when maintaining business relationships—it's how he found MyTana and is a contributing factor as to why he's kept Freddy's Ready loyal to MyTana equipment. "MyTana has the best you can ask for when it comes to customer service. I can take equipment in at 7:00 a.m. and it'll be out by 10:00 a.m. the same day," he praises. Reggie notes that every now and then he has business friends who switch to other brands' equipment, but "they always come back to MyTana. The prices are affordable and MyTana is superior in quality and reliability."
In the field, Reggie appreciates MyTana's easy, yet powerful technology that allows him to do his job effectively. His customers can use the MyTana app to connect with inspection cameras, so when he's performing pipeline inspections, they can peek in on how inspections are going. His clients who are realtors find this especially handy because they can give house tours to potential buyers and show the plumbing and drain cleaning work being conducted. Other customers include property buyers who have Freddy's Ready complete inspections before they make a purchase, and construction companies who bring Reggie's team in to inspect cement floors to ensure they're dry and have been engineered soundly. But the most rewarding project has been assisting with the development of a new housing division.
Consulting work allows Freddy's Ready to not only serve, but greatly influence the evolution of the region. Building a new housing division takes planning and expertise from a variety of different professionals—plumbers and construction workers, local governments, property management companies, and various other stakeholders. When created properly, these new communities flourish and bring new life and culture to an area. Freddy's Ready was called in to advise on the placement of lateral cleanouts for one of these developments, the Crossroads Apartments in Golden Valley, Minn. Equipped with MyTana inspection cameras, Reggie's team was able to show construction crews where pipeline installation would be most suitable. The team was honored to be recognized as experienced company in the field and be able to work on a project like this. Reggie comments that, "It's helpful to be a hand in the process because we can help ensure convenience and accessibility to the cleanouts for future crews working in them." Additionally, adding consulting services has provided the Freddy's Ready team with a new sense of fulfillment.
Contributing to the community through consulting projects allows Freddy's Ready to positively impact the northern Midwest at large and leave a legacy of its plumbing and drain service work. Reggie says, "It's been fun to get these types of projects because they break up the ordinary plumbing and drain service work we do. When you've been in the business long enough, it's great to be able to share what you've learned over the years." A job well done runs deeper than profits and is more meaningful than the business transaction. Within the plumbing and drain cleaning industry, connections run deep and even stretch generations. MyTana is honored to produce and service the equipment supporting companies like Freddy's Ready. Whether you're looking for a jetter, cable machine or inspection camera, trust MyTana to provide the equipment you're looking for.